MISSION
The tennis coaching services, that my team and I offer, are exclusively aimed at professional players junior players and players who attend college in USA (First and Second division).
The Sisport club, in Turin, is the sports centre that hosts us during the pre-season and where we are based during the season. This sports facility includes 20 clay tennis courts, green set and sportflex, gym, swimming pool, sports medicine centre and mental training area.
We can also provide for player's accomodation in apartments near the tennis club, near Torino city center.
The working method that I propose to tennis players draws on my academic background and on my work experience as coach in Italy and abroad. In order to develop the potential of a player, whether he/she is in the transition phase from junior to pro or a full-fledged pro, the starting point is always the search for a functional body-mind integration. I am firmly convinced of the need for a daily multilateral approach both during the off season and during the competition weeks: for this reason the mental preparation is daily integrated in the training sessions and I rely on the collaboration of a team of professionals built over the years with whom I share the same philosophy.
WORK EXPERIENCE
From 2006 to 2011 I worked at Junior Club Livorno where I was involved in the starting, improvement and specialization of athletes. The first experiences as a teacher, coinciding with my university studies, allowed me to lay the foundations and develop my teaching method.
In 2008, during an intense period of study/work, I came into contact with some of the best Tennis Academies in America, from which I tried to learn the principles of their way of working on mental preparation. In 2012 I conducted my first research in EEG (electroencephalogram) on the brain mechanisms of the modification of automated technical gestures in tennis and in particular the differences between professional and amateur players. From this research I obtained a practical protocol to apply on court ( for exemple in 2016, we used it with Giulia Gatto Monticone to modify some technical aspects of the service).
Also in 2012, the 10220NeuroLab was born, a working team that deals with the creation and development of software (app and software for VR) related to tennis trining on a neuroscientific and neurophysiological basis.
In 2013 I started working as mental coach for professional athletes and I continue to get this role to this day. So far I worked with 24 professional players with ATP/WTA rankings.
With regard to mental preparation, in 2016 I was the manager of mental area at Tennis club Le Pleiadi in Moncalieri (certified asTop School by Italian tennis Federation) and in 2017, I moved to tennis club Sisport in Turin (Certified as well Top School by FIT) where in addiction to be in charge in the mental area manager for 60 competitive athletes, I have been in charge of the female competitive area.
Since 2018 I am the manager of the mental area in Piedmont and Val D'Aosta of the Peripheral Training Centre (CPA) for the Federazione italiana tennis.
Since 2020 i am the manager of mental area at Circolo della Stampa Sporting (Certified as Top school by FIT) in Torino
Since 2015 I have been the coach of italian tennis player Giulia Laura Gatto Monticone. Thanks to this very important experience, I have been able to test my 360-degree training method, both from a technical point of view by applying the protocols for the modification of automated technical gestures that I had devised years before (in particular with Giulia we made substantial changes to the service and the reverse), but especially from a mental point of view.
Throug a very hard path over the years and through a real journey in search of awareness, Giulia has gone from position number 486 WTA in 2015 (at the age of 28) to position number 148 (March 2020), which is also her best ranking.
Since 2020 I'm coaching also Italian tennis player Federica Rossi, born in 2001.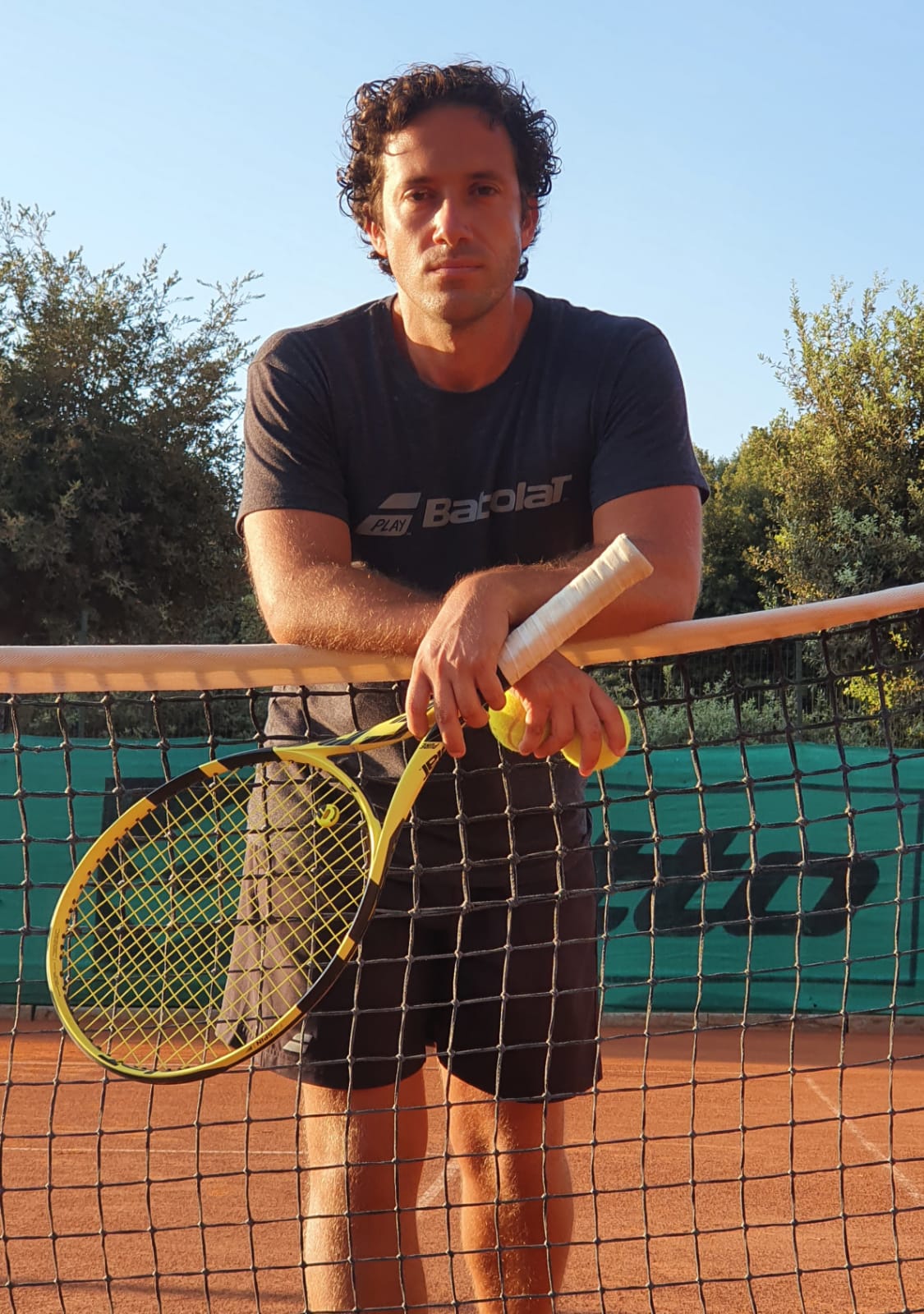 As far as my experience as a coach, three experiences have been particularly rich in meaning and formative among those lived until now: the qualifications and the first round match in the 2019 Wimbledon tournament played by Giulia against Serena Williams on the central court of Wimbledon, July 2, 2019.
the qualifications and the first round match in the Roland Garros 2019 tournament played by Giulia against Sofia Kenin;
The experiences in Fed Cup and Billie Jean King Cup with the italian national team
TECNIQUES
Speculum10220: Protocol for correcting automated technical gesture
Biofeedback: the biofeedback is a psyco-physiological psychotherapeutic technique. Biological parameters inherent to the sympathetic and parasympathetic nervous system (heart rate, muscle tension, breathing, skin conductance, brain waves), can be measured in non-invasively way through a device and some sensors, then the patient learns how to monitor and voluntarily control of unconscious biological processes. I studied at BFE association (Biofeedback Europe), through a purely theoretical basic and advanced course, then I attended the technical-practical training course to take exam for the 3 BFE level. I use this technique to monitor the psychophysical profile of the tennis player and to implement their awareness and management of these parameters during a competition.
Neurofeedback: the neurofeedback is a method that uses biofeedback principles to trace a central nervous system profile of patient, through electroencephalogram (EFG) and to work on the control of cerebral waves. It's a technique that I use in many types of disorder, such as the treatments of anxiety and depression.
VR Therapy: With my research group 10220Neurolab we have developed apps for VR to train cognitive skills, I also use this powerful tool for training and emotional management of the competition and to mitigate the impact of stress in the management of the competition. I also use other software produced by third parties for the development of cognitive skills essential for the tennis player.
SERVICES AND WORK METHODS
Short time: this type of service gives the possibility to train for a variable number of weeks during the year at our facility (tennis, athletic preparation, mental preparation, prevention, mindfulness)
Pre season: this type of service gives the player the possibility to play the entire pre-season at our facility (tennis, athletic preparation, mental preparation, prevention, mindfulness, programming)
Full-time: The full time players choose us as their official technical staff -ci scelgono come loro staff tecnico ufficiale. On the basis of a contract between the two parties we decide to invest in the growth of the player at 360 degrees for 365 days a year. In case of an open position in the section "active services" in the choice of the candidate among possible multiple requests will be taken into consideration:
• Sports CV
• CV, course of study
• Brief presentation (max 500 words) about yourself and your goals
The candidate will also be required to undergo an oral interview (via Skype).
Full-time+( scolarship): this service guarantees the same opportunities as the full time service, facilitaded by a 50% or 100% scholarship compared to training expenses. Among the requests, to be sent only in case of an open position in the "active services" section will be evaluated a series of parameters such as:
• Sports CV
• CV, course of study
• Brief presentation (max 500 words) about yourself and your goals as a tennis player.
The candidate will also be required to undergo an oral interview (via Skype) and a written test
For our full time tennis players and full time scolarship, we guarantee full availability for accompaniments to individual tournaments, to be agreed with the player.
The coaching services are intended exclusively for professional players, junior players and US college players. (First and Second division).
Our philosophy of work is to put at the tennis player's disposal every possible resource that can guarantee him a quality service, both during the pre season and in the accompaniment to tournaments during the season.
For this reason I decided to create a section called "active services". Depending on the time of year and the kind of work we are doing with our tennis players we will decide if there is the possibility to welcome new athletes and invest in other projects. This area will therefore be constantly and promptly updated whenever we believe we can start one or more new collaborations that will guarantee quality work.
Every time the possibility to welcome a tennis player in the "ACTIVE SERVICES" section will be clearly indicated the type of player to whom the opportunity is addressed (ATP, WTA, JUNIOR, COLLEGE), possibly the ranking range, the type of service (Short time, pre season, full time, full time scolarship), the number of weeks and the number of possible accompaniments.
TEAM
The secret to quality work is to have a team of close-knit, competent and passionate professionals at your disposal. Only through sharing and teamwork, great results can be achieved in modern tennis.
Fitness Head coach: Stefano Pucci
Biologist nutritionist: Dr. Stefania Cattaneo
Physiotherapist: Fulvio Sarcinelli
Assistant coach: Giulia Laura Gatto Monticone (former 148 wta)
ACTIVE SERVICES
In this constantly updated section you can check the possibility to welcome new tennis players in our structure and to start a new collaboration. Here, it will be indicated the type of service available, the requirements that the tennis player must meet in order to apply and the deadline to apply for admission. Anyone who meets the indicated requirements and would like to apply, can do it by sending an e-mail to 10220serviziattivi@gmail.com with the following files attached in .pdf format:
• Type of service you are interested in (short time, pre season, full time, full time+)
• Sports CV
• Curriculum vitae (CV)
• Brief presentation (max 500 words) about yourself and your goals as a tennis player.
The candidate must also undergo an oral interview via Skype.
Key on the type of services:
SHO Short time
FULL full time
PREP pre season
FULL+ Full+ (scolarship)
Key on player type:
ATP professional player with ranking ATP
WTA female professional player con ranking WTA
JR M junior male player
JR F junior female player
Any ranking constraints will be indicated, e.g. WTA 100-200 means that the requirement to apply for active service is to be a WTA player with a ranking between 100 and 200